Predator 2.0 | Tourbillon
Gold 5N
REBELLION conceived and developed the Predator 2.0 in the same spirit as the rest of its collection: With authenticity, refined design and uncompromising quality and performance. Superbly complex, the Predator 2.0 Regulator Tourbillon is the perfect technical and aesthetic fusion between racing cars and fine watches. The Predator 2.0 Regulator Tourbillon reveals a profound watchmaking legacy with a regulator display and a tourbillon at 6 o'clock, which performs one revolution in one minute. The engine, regulated by Louis Abraham Breguet's famous invention, ensures exceptional accuracy by offsetting disruption of the balance isochronism due to Earth's gravity. Wearing the Predator 2.0 Regulator Tourbillon is like getting into a racing car. The "dashboard" displays two attractive counters for the hours and minutes and is completed by a cleverly shaped second' hand. The racing car aesthetics reveal the date at 4 o'clock and the self-winding movement provides an astounding 65 hours of power reserve, a genuine tribute to endurance racing! The exclusive case allows considerable space for personalization.
Description
Precision and complexity are the heart of this movement developed exclusively for REBELLION Timepieces by Telos Watch. Disturbances caused by earth's gravitational pull are compensated by the tourbillon, displayed at 6 o'clock. Hours and minutes are indicated by two separate counters, while the large needle points to the seconds. As for the automatic engine, it can reach an astonishing 60 hours of power reserve.
Special limited edition of 30 pieces.
COMPLEX AND PRECISE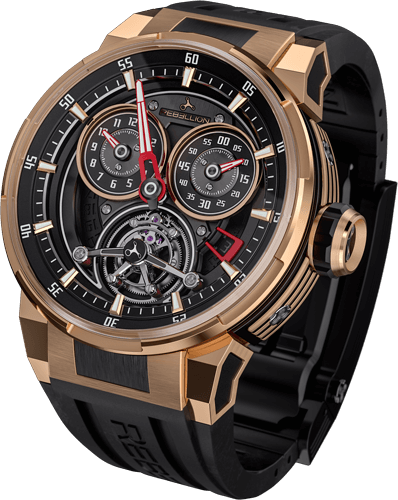 The Two Dials
Elegantly inspired by racecar aesthetics, the two dials are true counters, reminiscent of a dashboard. The hours are on the left, the minutes on the right.
CASE
Born of a high precision five-axis CNC machine, the complex and modular case is composed of 63 pieces.  A choice of titanium, titanium DLC black, rose gold or compressed carbon and custom engraved plaque at 9 o'clock.  Every REBELLION is truly unique.
The Central Hand
Fashioned after an automotive gauge needle, the unique hand runs the circumference of the main dial to count the seconds, stressing the importance of this regulator tourbillon: Every second counts.
The Tourbillon
Located at 6 o'clock, the tourbillon is a magnificent piece of mechanical art. A true rebel, it resists the laws of physics which threaten its accurate performance by compensating disruptions caused by earth's gravitational pull.
Mass
The oscillating weight of this exclusive automatic movement peeks through a sapphire crystal. Inspired by the finest racecar rims, this unique mass is not as symmetrical as it appears.
Movement Inside
This complicated, automatic regulator tourbillon movement – developed exclusively for REBELLION Timepieces – is based on the Telos Watch movement P351. Long known as "master clocks", regulator clocks were housed in observatories and served as reference points for the precise adjustment of watches. The tourbillon, located at 6 o'clock, adds to the timepiece's stunning precision. Two parallel-mounted barrels offer a power reserve of 60 hours.